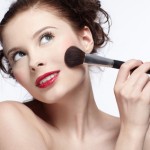 I can't begin to tell you how much money I've spent on beauty products over my lifetime. I started at 13 years old when I was finally allowed to wear make-up for the first time. I felt so grown-up and I became an avid consumer of what I saw in magazines and on TV. From then till now, the make-up I've bought, including mascaras, compacts of blush, pots of eye shadows, creams and tubes of lipsticks would most likely total into the thousands.
You were probably just like me, easily susceptible to the idea that a beauty product would make you suddenly sexy and beautiful. I remember the feeling I had when I bought some new product; the hope and expectation that it triggered in me. I believed that it would fulfill it's "promise" and make me more beautiful and desirable.
But the men I wanted to attract didn't seem to notice me any more than before. And when these products didn't have the desired result, and did not change me overnight, I had to assume it was because I just wasn't pretty enough.
Even now, after all this time, I am still susceptible to the advertising that sells beauty products. But now there is a big difference. I know they aren't magic and I've learned the way to be sexy and desirable as a woman –and it has nothing to do with anything you can buy.
Just like Dorothy and her ruby shoes in "The Wizard of Oz," the answer to attracting a man has been with you all the time: you just have to smile.
Your smile will light up a room, and make everyone around you feel good. No matter how you're feeling, it's impossible for you to smile and not feel your mood elevate.
There is nothing that signals welcome and acceptance to a man more strongly than a smile on your face. There is no reward greater for him than to see you smiling — and for him to think that he helped put it there.