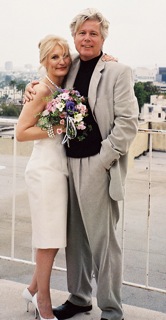 Virginia Clark (aka Virginia Feingold Clark) has coached hundreds of woman by helping them to uncover their blocks to love and marriage. With over 16 years of experience as a successful Certified Hypnotherapist, she is an expert on the power of the subconscious mind and it s ability to transform one s love life.
Virginia met her husband in her mid 40s, and has now has been married to the love of her life for 15 years. Her years of struggle and desperation as a single woman have given her a unique insight into what it takes to find your true love and create the marriage of your dreams.
Her past experiences as an actress and founder of a theatre company in Boston and the owner of her own successful personnel agency in Los Angeles has given her insight into both the corporate world and the Arts. She was also a leader in a spiritual community where she gave guidance on love and life problems for 19 years.
She holds a M.F.A. degree from Brandeis University in Theatre and was chosen to be one of the Pioneering Nine — the first women ever invited to attend Dartmouth College. They would later be hailed as the women who sparked the movement that turned the entrenched, all male Ivy League school co-ed.
Virginia's direct approach and natural intuition gives her clients just what they need to create powerful breakthroughs in their romantic relationships.
She works with women who are in troubled relationships as well as with single women who are looking for their Mr. Right.
After 30 years living in Los Angeles and 6 years in Phoenix, Virginia and her husband decided to have an adventure and are now spending a year living in Portugal.