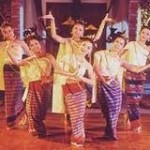 How to be a more feminine woman — you'll find your answer in Thailand. While on vacation there last spring I couldn't help but notice the true femininity of the women there.
It's a country where respect and equality exist between the sexes. You see many Thai women in leadership positions working alongside men as equals (a woman was just elected president). Yet the women there have managed to keep their feminine allure and radiate a special beauty all their own.
Thai women have a strong presence that has nothing to do with being showy or vain. In fact, they are modest in their dress and the only women who show off their bodies with low cut tops and short skirts are the "ladies of the night." They are easy to spot and there is little question what they do.
It's not clothes that make Thai women so beautiful…it's how they feel about themselves. It goes back to their traditions, most noticeable when they do their traditional dance. I was privileged to attend one of these dances and I was mesmerized. I was in awe of the spectacle in front of me as 12 beautiful women went through their steps in perfect usison, yet it was not at all regimented; each woman was like a unique flower.
Being a more feminine woman has everything to do with your sense of yourself. These women were a prefect example of how to do it.
The movements of the dance are all slow and smooth, nothing is fast or harsh.
How to be a more feminine woman: slow down
Each woman dancer is completely focused on herself and her own body, giving her an other-worldly etherial detachment that pulls you in. Each is in her own world gracefully using her arms and hands — it's hypnotic. Their bodies moved as one, swaying slightly, it's only their arms and hands moving purposely through the air that tell the story.
Their fingers are made even more expressive with ornamental pieces at their ends that look like long golden nails. They wear their hair up with dangling earrings that sway gently and sparkle as they move. The whole feeling of the dance is "less is more."  Their restraint creates a tension that pulls you in.
Unfornately, my husband missed this experience. That night he had "boy's night out" and attended a kick boxing match with our guide.
So I looked around at the other people in the audience and saw that they were as transfixed as I was. The next day I went out and, still in a trance, bought myself a pair of earrings just like theirs. I hoped they would remind to be more feminine and slow down.