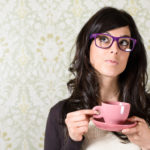 To find a good man to marry you need more than luck; it requires common sense. When you fall in love, your good judgment can fly out the window. I know, I was an expert at turning off my brain and going strictly by instinct when it came to men. As I explain in "It's Never too Late to Marry," it took me what seemed like forever to finally wise up and let my intelligence have a say in my romantic life.
I know you think using your common sense sounds unromantic; it is! Relationships are much more than romance.
Giving your common sense a say in your love life means saying good-by to some unhealthy tendencies you've developed — without realizing it. There are some bad habits that have snuck in under your radar and are now causing you a lot of pain.
To find a good man to marry you have to face facts.
For starters, you have to stop the over-the-top drama you may have allowed in your relationships. This comes from picking the kind of men that make you feel crazy and out of control; men who don't live up to your expectations and yet you put up with their bad behavior.
When you use your common sense you'll have to say "no" more often. You'll be saying "no" to bad boys, men with unhealthy addictions and unavailable men.
It doesn't sound like a lot of fun does it? It's not; it's hard. But it's harder bringing common sense into your love life when you're involved with a man who's causing you big problems.
You may be tempted to deny what's going on (like I did when I was living with an alcoholic). But if you don't use your better judgment you'll prolong your suffering until eventually it becomes just too painful for you.
To find a good man to marry, you need to use your head as well as your heart
If you're not in a relationship now, prepare yourself to employ your common sense. Keep in mind the qualities you want in a man and stick with them. You want a man who lies, cheats and is cruel — just kidding! You want the exact opposite, a partner who is honest, loyal and kind.
To find a good man to marry you can't just leave it to chance. You have to use your common sense; otherwise your instinct will tell you that a not-so-good guy will do.