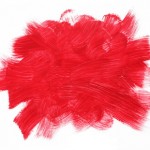 I know many of you may be surprised at my lack of sentimentality and disdain for this manufactured-to-produce-not-love-but-guilt and-self-pity holiday called Valentine's Day. Seriously, my husband and I do nothing on this day except avoid all restaurants. To my thinking, there's nothing less romantic that being made to feel like you HAVE to be. It's similar to being an actor, bringing up emotions on cue.
My favorite color, red, is suddenly everywhere, I'm on red-overload, making me start to crave anything lavender or green. Red objects over-flow several aisles at the grocery stores, as more and more space seems devoted to this day for 'couples.' Shelves are piled with bags of cheap chocolates in red and silver wrapping, boxes of hard candies and red candles. I wonder what they will do with all the leftover stuff once the day passes, maybe save it for the next guilt-inducing V-Day.
Is anyone else besides me sick of looking at hearts? The card racks are full of them and store windows are full of heart balloons. People are suddenly enthralled with those small sugar hearts with words on them that taste like chalk. They're everywhere — in bowls at the veterinarian's office, the manicurist and even at dentist (not very good for the teeth!).
All the red candies and all the hearts begin to pull on me, dragging on my conscience. I begin to feel the pressure to buy something for my husband. I know not to do this from experience because he's worse about V. day than I am. One year for fun, I bought him a sterling silver key chain with the date February 15th inscribed on it. He still wasn't thrilled. I have never seen him use it. I fight the urge that has be been triggered in me by corporate marketing geniuses and try to maneuver past all the hoopla like a horse with blinders on.
I know that, like many holidays, Valentine's Day started as a religious holiday honoring one or more early Christian martyrs named Saint Valentine, but it has been secularized and a big money payday for florists, candy and jewelry stores, card companies and restaurants.
I guess you could say I'm pretty bah-humbug about this day that is forced on us every year. I especially don't like the fact that women and men who are not in relationship and not in love, have to endure a celebration that has no room for them. When I was in this group before getting married, I dreamed of the ideal Valentine's Day that I thought I was missing. Each February 14th, I'd promise myself that the next year I would be gazing across the table into the eyes of a man I loved.
Well, being someone's Valentine is not all it's cracked up to be — the anticipation is huge. The pressure is on to look good and feel romantic no matter what. No matter how slow the traffic or how bad the service of a carefully chosen restaurant with an over-priced 'V-Day' special menu. Then there's the expectation of receiving the perfect romantic gift — the Holy Grail — the possible engagement ring.
I don't know why I feel and sound so crabby about this day. Maybe I am still smarting from the time Victor, the red-headed boy in 3rd grade, gave every girl in the class a handmade Valentine — except me. Do you think? You know what day I can't wait for every year? February 15th.