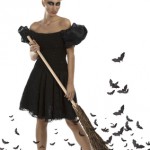 "This adultification of Halloween is taking place in virtually every city in America. At bars. At restaurants. At movie theaters. Even at high-end gift shops. Like treats snatched from a trick-or-treat bag, adults have slowly been stealing Halloween from kids for years. Now it appears, grown-ups own the holiday." Bruce Horovitz, USA Today
Do you have a plan for Halloween? Have you decided to hide out at home, hoping no little monsters ring your bell so you can have all that candy just for you? Will you be waiting for the night to finally be over because you're just not in the Halloween spirit?
Well, I invite you to make a new plan for Halloween. This holiday is not just for kids and their parents anymore. Halloween is a great opportunity for you single ladies to indulge yourselves; a time to play dress up and enjoy stretching yourself out of your comfort zone.
I invite you to use this holiday as an excuse to walk on the wild side; to get in touch with your secret self.  Read more >>>