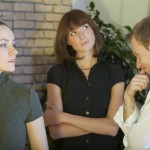 When you are involved with a married man or any man with another woman in his life, you can't help but feel a little crazed. It takes a good deal of self-awareness and inner strength to keep yourself balanced and centered when dealing with this kind of uncertainty.
I've said many times they're no rules that apply to everyone. If we are too black and white in our thinking, too judgmental without compassion, we are doing ourselves a disservice. Life can be messy, but that's no excuse to not clean it up. If you're involved with a married man who "belongs to another" you need to do some real soul-searching. Why you are involved with a married man and what is the cost to yourself, to him and to his family.
There are examples where it seems (we can truly never know what goes on in another's relationship) that two married people have found their true love outside of their marriage and have happily moved on. One example is Steven Spielberg, who divorced Amy Irving after an affair with Kate Capshaw (who was also married at the time) and they have now been married for over 20 years.
Here is the story of Nicole from Australia; she wrote beautifully about her experience of coming out of such an affair. She's an example of how taking care of yourself will compel "the universe" to support you and ultimately give you your heart's desire.
I contacted Virginia at a desperate time in my life. I had been through three grueling years involved with a married man, was close to a breaking point, feeling shame and hopelessness but was actually trying and hoping to make things work out. I am not proud of the place I was in but realized that I needed some serious help to either end the affair or work out whether there was reason to stay.
I had had lots of "therapy" but Virginia was the first counsellor to really identify and connect with the issues I was confronting and guide me gently and supportively on a path that restored my self esteem, self- value and the courage to face reality and move on with my life.
Virginia was always non-judgmental and very empathetic to a situation that many women like myself vow never to get into, yet somehow get caught up in the powerful pull of addictive and unhealthy love patterns.
At first I was skeptical that I could develop the rapport with a counsellor through internet "skyping" that was necessary to feel heard and understood. I was used to the "therapist's office". But it was amazing that, in the safety and security of my own little world, on my laptop, I could connect with her, like a good friend, despite the time and distance between us. There was a day and 9 hours time difference and 12000kms between our two sides of the world…but it felt like her presence was in the room with me!
I could safely say I am a recovering "love junkie" and finding a new way to have healthy and meaningful relationships. Virginia has helped me to get in touch with my own strength and wisdom, to make better choices and to trust myself in the process. My friends, my children and my family are all grateful that I have returned to relationship sanity.
I have since met, and in a long-term relationship, with a loving, gentle, man who fulfils my relationship cup in the ways that no affair ever could. There is no more roller-coaster, drama filled, anxiety driven, day-to-day survival stuff going on. I am in a real relationship, with an available man who loves and cares for me in a way that I have never before experienced. Until I had worked with Virginia I would never have created the opportunity to meet a man like this, much less recognized that he was one of the "good guys"!
Involved with a married man: every experience can be a teacher for our good