I know how lonely and hopeless you can feel when you're searching for love. It's so hard to stay positive when you've been disappointed so many times.
But if the years are flying by and you're still single, you probably don't know the mistakes you've been making that have kept love away from you.
But don't worry, it's not too late — once you know what to do you really can have the relationship you've been longing for.
If you're asking yourself, "what do men want in a woman?" or "will i ever find love?" and you just feel you want to get married…
You really can:
feel confident and be loved for who you really are
feel secure in your feminine and attract a man with your heart
stop dating the wrong men and find the man who's right for you
"The 5 Mistakes: How To Stop Pushing Love Away"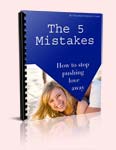 PLUS get my free newsletter full of tips and advice on how to have the relationship you've always wanted!